Digital Nonprofit Fundraising & Donor Activation Specialist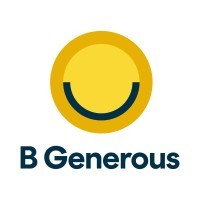 B Generous
United States · Remote
Posted on Saturday, January 28, 2023
To Apply: Please Send Your Resume to Co-Founder & COO Neil St. Clair at neil@bgenerous.com and with "Digital Nonprofit Fundraising & Donor Activation Specialist + Your Name" as the subject.
***
B Generous is a FinTech company that is addressing the half-a-trillion-dollar underserved donor nonprofit market in the U.S. At B Generous we're powering nonprofits and donors to achieve more together by using financial technology for good. We accomplish this through our proprietary, and first of its kind, philanthropic credit product which allows donors to Donate Now, Pay Later (think Affirm/Klarna/AfterPay for nonprofits).
B Generous has raised substantial venture capital from leading VC funds, and has also partnered with some of the nation's top financial institutions to power our core Donate Now, Pay Later (DNPL) product. We have had more than $1M of Donate Now, Pay Later credit approved through our platform in just the last 90 days, and have nearly 100 nonprofit clients using our product, including PETA, The Humane Society, The Jewish Federation, MarchOn, The Boy Scouts, CORE, and the National Down Syndrome Society, to name a few.
We are now looking for a fundraising specialist who is a true expert in online digital fundraising and donor activation for nonprofits. This individual will have led in-house nonprofit teams and/or worked at a consulting firm with a focus on using fundraising technologies to raise online donations from the public–with an emphasis on mid and smaller donors (i.e. $5,000 or below in average gift size).
The Specialist will work directly with our COO and other executive team members, providing deep expertise, execution, and insights across the individual nonprofit fundraising and technology landscape. This will be a full-time role.
If you enjoy working in a fast-paced, highly iterative environment, owning your domain, and, if you want to make the world a better place while working with a highly experienced and passionate team, then this role may be right for you!
***
Duties & Responsibilities
Develop digital-first, omni-channel campaigns alongside our nonprofit partners to encourage current donors to use donate now, pay later as their primary gifting methodology
Develop A/B testing methodologies to prove out our value proposition around average gift size increase.
Work closely with our marketing, product marketing team and external donor acquisition firm on new donor acquisition campaigns and/or churned/inactive donor reactivation campaigns
Your efforts will include strategy and discovery, segmentation analysis, assistance with campaign design and development, assistance on budgeting/external spend, client presentations, campaign execution, and ongoing analytics
Help B Generous develop authentic, practical and future-looking dialogue and content around nonprofit fundraising and technology, including an informed, decisive and unique perspective/voice that we can advocate publicly
Provide analysis and insight on the broader trends within fundraising and nonprofit technology that help with sales enablement and team-wide knowledge (put another way: what is going on in our space now and tomorrow)
Help our leadership, product, and tech teams with new ideas, innovations, and product feedback to create virtuous feedback loops that optimize our product, sales, and customer experience
***
Experience/Qualifications
Minimum of 5 years in nonprofit organizations or donor acquisition consultancy, leading digital-first fundraising and related donor efforts
Have a deep understanding of digital-first omni-channel marketing for donors with a proven track record of success. Specific knowledge of working with standard NPO CRMs (e.g. Blackbaud, Salesforce.org) to perform data analysis and segmentation is important as is understanding of standard NPO marketing channels (e.g. social media, email marketing, text message, P2P, gala and auction platforms, direct mail campaigns, etc.)
Come prepared with both historical and contemporary expertise on nonprofit individual fundraising, giving trends, nonprofit technology, and the philanthropy technology competitive landscape
Bring a strong set of expertise on the decision-making processes related to nonprofit technology within nonprofit organizations (NPOs), including best practices around integration, implementation, evangelism, etc.
Deep understanding of fundraising cycles, nonprofit problem-solution sets, and nonprofit decision-making technology processes from first pitch through usage
Proven track record leading fundraising and operations for multiple nonprofit organizations at scale with a deep understanding of nonprofit fundraising channels and cross-generational tactics with an emphasis on individual giving at the small/mid-major level (i.e. below $20,000 average gift size)
A specific understanding of online and digital fundraising tactics with an emphasis on next-generation fundraising and new technologies and growth initiatives
Strong networking and public speaking skills with a comfort presenting to senior leadership at nonprofit organizations
***
Compensation & Special Benefits
In addition to our traditional salary-based compensation, we also offer additional benefits, including, but not limited to:
Flexible working location/hours (e.g. work from home + work off hours)
Company philanthropic match credit up to $1,000 to your favorite nonprofit organization
10-20% Dedicated Innovation Time (internal moonshot lab)
Unlimited PTO package (basic rules apply)
Generous travel package and perks (e.g. company retreats)
Fun team-building exercises and events and a positive atmosphere and culture
Opportunities for advancement, growth, and leadership
Respect and priority for diversity/equity/inclusion
N.B. While this role is remote-first, it may also require regular travel for meetings with B Generous Leadership, Growth Team Members, clients and prospects where health conditions and resources allow
B Generous. is an Equal Opportunity Employer: we value diversity. We do not discriminate on the basis of race, religion, color, national origin, gender, sexual orientation, age, marital status, veteran status, or disability status.
B Generous is only able to hire U.S. citizens or those with the right to work in the United States at this time. We are unable to offer visa sponsorship or take on a visa transfer.
***